TRAINING & EXAM PROGRAMS
Instructor Led Courses, Online Courses, Self-Study Options & More .........
Please note that these individuals are not authorized to sell, advertise, and/or teach National Restaurant Association Solutions courses (i.e., ServSafe) nor administrate/proctor any National Restaurant Association Solutions exams. Please notify us immediately at (888) 291-6462 if you become aware of anyone on this list engaging in these activities.
Learn more about ServSafe, the most current and comprehensive food training program in the industry, helping 5 million food service professionals learn how to handle and serve food and alcohol safely. ServSafe, created and maintained by the National Restaurant Association, delivers an effective and highly regarded food safety program that businesses large and small depend on to safeguard the health and well-being of all. involved. The ServSafe® training & exam meets all regulatory requirement & QA Spec's for Hotel & Restaurant Brands.
THE SERVSAFE® FOOD SAFETY ADVANTAGE
---
The ServSafe® program is developed by the National Restaurant Association with the help of foodservice industry experts who face the same risks you do every day. Your concerns are our concerns.
Our years of experience and inside knowledge of the foodservice industry are at the core of our courses, exams, and materials. We can prepare you to handle food sanitation risks because we have direct experience with it. We also have reliable materials, flexible options, and expert food safety educators. 
SERVSAFE FOOD SAFETY PROGRAM MATERIALS
---
Our materials help define food safety best practices because we involve specialists from regulatory agencies, academia, and the foodservice industry to create them. ServSafe materials reflect the latest science, research, and FDA Food Code. Learn more.
Books
FLEXIBLE OPTIONS
---
Training and exams are available online and in a classroom. Compare formats.
Courses can be taken in English, Spanish, Chinese, and Korean.
Exams can be taken in English, Spanish, Chinese, Korean, Japanese, and Canadian French.
Online Training
 EXPERT FOOD SAFETY EDUCATORS
---
Certified ServSafe Instructors and Registered ServSafe Proctors must meet minimum experience and educational requirements. You can be confident that practical, real-world experience guides your training. 
HOW DOES SERVSAFE COMPARE?
---
ServSafe is the leader in food safety training and certification. See why.
ServSafe®, ServSafe Alcohol®, ServSafe Food Handler®, ServSafe Allergens™, ServSafe® International, ManageFirst®, NRA Culinary Exams, and Foodservice Management Professional® (FMP®)  are a registered trademarks of the National Restaurant Association Educational Foundation, used under license by National Restaurant Association Solutions, LLC, a wholly owned subsidiary of the National Restaurant Association.
National Registry of Food Safety Professionals is your most trusted choice in delivering prompt, cost-effective, personal certification to your managers responsible for food safety. National Registry is your go-to source for Food Safety Manager Certification, HACCP Certification, and Food Handler Certificate Program. When you think food safety, think National Registry. National Registry takes great pride in examinations and service delivery standards and practices. Customer service representatives are available via phone, email, live chat, and Twitter.
The foundation for a safe food culture starts with certification. National Registry of Food Safety Professionals provides you with personal certification for your managers responsible for food safety. National Registry's exams test not only your technical food safety knowledge but also the behaviors needed to effectively implement that knowledge. Said differently, it's not just about what you know, but how you apply what you know as well. The how is what makes the difference. The NRFSP Food Safety Manager Certification is what sets you apart
National Registry maintains its commitment to the retail grocery industry via active roles supporting the Conference for Food Protection, and The Global Food Safety Initiative among others. National Registry remains the most experienced, long-term provider of certification solutions specifically designed for the retail grocery industry team members with an exam available in paper and pencil, online, and in testing centers around the country. Learn more about your grocery store solutions with National Registry.
National Registry has launched a brand new certification exam developed specifically for managers of convenience stores. The Convenience Store Manager Certification is created by subject matter experts with questions and scenarios directly applicable to the c-store environment. The exam is accredited by ANSI and accepted in the same jurisdictions as the standard food manager exam. Pair the convenience store exam with any training of your choice based on the most recent Food Code. Learn more about your convenience store solutions with National Registry.
Become a Certified Food Manager
National Registry's ANSI-accredited Food Safety Manager Certification Program assesses the knowledge and skills of entry-level food managers. Examinees who successfully pass the examination and meet all other criteria for certification will receive certification, which is valid for a period of up to five years. View regulations and restrictions in your state.
Become a Food Handler
The First Principles certificate program, available online and in a classroom setting, provides food handlers with the knowledge and skills they need to safely handle foods for human consumption. Successful completion of the program assures food managers, regulators, and trainers that the certificate holder has completed a basic course in food safety.
Become a Certified HACCP Manager
National Registry's Certified Food Safety HACCP Manager Examination measures the level of food safety comprehension of workers in the retail and manufacturing industry who must follow HACCP plans. This certification is intended for workers in facilities such as food manufacturing, processing plants, food packing, and warehouses storing food for human consumption.
Because HACCP is a management system that touches raw material production, procurement and handling, manufacturing, distribution, and consumption of food, National Registry worked with a global team of food safety experts to link HACCP principles in the development of an examination that would comprehensively address the HACCP system within that wide range of organizations.
TiPS® (Training for Intervention ProcedureS) is the global leader in education and training for the responsible service, sale, and consumption of alcohol. Proven effective by third-party studies, TiPS®is a skills-based training program that is designed to prevent intoxication, underage drinking, and drunk driving. 
Over the past 30 years, TiPS® has certified over 3.5 million participants. TiPS® have certified participants in all 50 states and over 40 different countries. Join the thousands of businesses and organizations that already enjoy the benefits of TiPS®.
Instruis Publishing Company's SURE™ line of products provides Safe, Useful, Responsible Education to support the food and alcohol industry. Instruis Publishing Company is founded on the belief that the world is safer and more secure utilizing the concept of perfection through education. James Egbert, CEO and Publisher announced, "We will produce a comprehensive series of training titles and support materials using our feature proprietary SURE™ system." SURE™ (Safe, Useful, Responsible Education) offers a complete cycle of training. SURE™ makes certain that the needs of employees, managers, and trainers are aligned.  
The SafeMark® Food Protection Manager Training program is customized to meet the unique training & exam needs of the retail food industry, including supermarkets, superstores, food warehouse outlets, limited assortment stores and convenience stores. FMI developed this program, working with experts who have been training retail food managers and employees for more than 25 years. The SafeMark® certification exam is available through the National Registry of Food Safety Professionals. 
The ManageFirst® Program, created by the National Restaurant Association Educational Foundation (NRAEF) and managed nationally by National Restaurant Association Solutions, is a management development program that equips students with the key competencies they need to begin or advance their management careers in our demanding industry. ManageFirst has been adopted by more than 350 colleges and universities and in a variety of restaurant and foodservice companies.
NEHA® Food Safety Training is a one-stop-shop for environmental health education and training. We offer education materials (publications, videos, etc.), top-notch food safety training, HACCP Manager Certification and food manager certification exams.
Our primary services enable restaurants and food service establishments to custom their training needs so you receive as much or as little food safety education as you need. Whether you're looking for food safety books to distribute to your employees, want to create an internal training program, or are looking to provide certification/recertification for your food managers and food handlers, NEHA Food Safety Training has what you need…all at a price you can afford.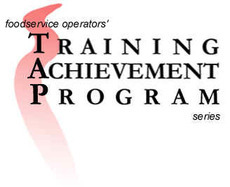 TAP® Series Food Safety Online Training – TAP® Series unique teaching process allows for a real-time uninterrupted learning experience by using colorful graphics, animations, full motion video, audio and interactive learning exercises. We provide this media rich training on any data connection, from the slowest dial-up to the fastest broadband. Major university studies show TAP® Series courses are so simple to use that people with virtually no computer experience use them easily. Educators appreciate the TAP® Series' exceptional self-paced and self-teaching courses. The quality of these courses qualifies them for course credit while reducing already over-taxed time and facilities.
HRB360U.com is powered by 360training a leading provider of regulated government accredited online certification training courses. HRB360U.com courses are created for the hospitality industry including -hotel, restaurant, bar, convenience store and grocery employees and managers. As the nation's leading provider of online alcohol seller/server and food safety manager certification training courses, HRB360U.com provides a convenient alternative to traditional classroom based instruction without compromising the quality of training that you expect. The two main components of the HRB360U.com training solution include interactive, self-paced alcohol seller and server (certifications, as well as) food safety manager (FSM) training.
The National Restaurant Association is proud to introduce the Culinary Exams for Cooking and Baking.
The National Restaurant Association has created exams that measure knowledge of general procedures, core principles, technical skills and the how's and why's of cooking and baking.
The certificate exams attest that students have met the learning objectives and have full knowledge of the principles and practices of the culinary arts. Because the exams evaluate the student's grasp of generally accepted principles of cooking and baking, they can be used as a capstone for any culinary program.
The Online Food Handler Program is self-paced and narrated. Most people complete the course in 1-2 hours. Once you register and pay for your Program, you will have 30 days to complete it. There is a 40 question assessment to test your knowledge of the subject material. You must score at least 70% on the assessment to receive your Certificate of Completion. This ensures that the material is being absorbed. Our unique Program allows you to review the course and retake the assessment as many times as you need in order to achieve the 70% passing score (within 30 days from the date of purchase). The ultimate goal is that you learn and retain the material.
Known as The Most Trusted Name in Food Safety™, NSF® International has been helping businesses in the agriculture, processing, food equipment, restaurant and retail industries to navigate the food safety and regulatory environment for nearly 70 years. Our extensive suite of food safety and quality services spans every link from farm to fork including certification, testing, training, consulting, auditing and regulatory compliance.
The Foodservice Management Professional® (FMP®) credential represents excellence across the industry.
The Foodservice Management Professional (FMP) certification recognizes exceptional managers and supervisors who have achieved the high level of knowledge, experience and professionalism that is most valued by our industry.
The FMP credential not only signifies a professional's mastery of competencies to potential employers, but it's also an important tool that helps the industry recruit, retain and reward qualified employees.
13,643
F & B Professionals Certified
Optimizing every area of your business!
A FEW THINGS WE DO ...... Just ask and we can customize the service to fit your operation.
WHAT THEY SAY...
What are our clients are saying about us?
JAMES FRANKLIN
Nashville, TN
"It was so nice to have an industry person certify my management team with the ServSafe® Manager Program.  They put things in terms they understand and the lowest grade in the group was an 89%."
JANE ADAMS
New Orleans, LA
"It was awesome that I was able to get my team trained on our schedule.  I was amazed that HRBUniversal offer's training 7 days a week and we were able to do the class on a Sunday."
MICHAEL CLAY
Savannah, GA
"My operation needed a HACCP Plan completed with in 30 days to get a variance.  Chef Brad made it easy to get completed and implemented.  I will say I was hesitant in choosing HRBUniversal since they had the highest quote, but the health department approved it with out resubmitting any revisions.  That saved so much time and MONEY since it was done correctly."
LAWRENCE JAMES
Asheville, NC
"The health department told me I had to have a HACCP plan to do what I wanted to do.  I called around and the prices I got were more than I could spend being a new business starting up.  I to HRBUniversal's Special Process HACCP Training Class.  It saved me major $$$$$ plus I am able to understand the process and make changes in the plan as needed."
"I had several issues with lowering Health Inspection Scores and contacted several of the big 3rd Party Audit Firms.  Two of the big 3rd Party Audit Firms conducted private inspections for us but we still had issues.  They told us what we were doing wrong but did not give up a solution in order to solve.  A friend of mine told me to call Chef Brad with HRBUniversal and talk with him.  Chef Brad came out and looked over the operation as well as conducted an inspection.  Our score was around 20 points lower than my regular inspection score. But, he gave use solutions and they stuck since in two weeks later we got a 98% with our health inspector.  The inspector was so impressed how my team had changed."
HRBUNIVERSAL, LLC
855.447.2864 | 866.934.6472
Email@HRBUni.net
https://HRBUni.com

MAILING ADDRESS
4000 Eagle Point Corporate Drive
Birmingham, Alabama 35242

LIVE CHAT & OPERATOR SUPPORT HOURS
Monday - Friday : 7:30 am - 5:30 pm CST

ANYTIMEREPLY ASSISTANT BOT - 24 hours/365 Days
Facebook Messenger - @HRBUniversal
SMS Text - 202-TEXT-HRB (202-839-8472)