ServSafe Alcohol® Online Course and ADVANCED EXAM (Proctored)
00034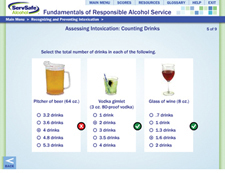 ServSafe® Products & Online Training
Price: 30 USD In stock
Product Code: SSAOLA
ServSafe Alcohol Online Course and
ADVANCED EXAM (Proctored)
THIS EXAM OPTION REQUIRES A PROCTOR TO BE PRESENT AT THE EXAM SITE DURING TESTING.
All purchases of online training courses are final. Before purchasing, review technical requirements, and please read all information below. Once you begin the course, you will have 90 days to complete it, at which time the course will be deactivated.
A Proctor is an individual who has been authorized to monitor exam administrations per NRAEF standards. If you do not have access to a proctor, the ServSafe Alcohol Course with Primary Examination may better fit your needs.
To find out if you can take ServSafe Alcohol Online in your state click here.
Upon purchase, you will receive access to the online course and an Exam Access Code for each course purchased. After completing the course, the student may begin the exam by entering his/her Exam Access Code. A Registered ServSafe Alcohol Online Proctor or an Approved ServSafe Alcohol Instructor must also enter the Proctor Access Code before the exam can begin.
SERVSAFE ALCOHOL ONLINE COURSE. In four to five hours, or less, learners will receive critical knowledge on alcohol law and responsibilities, recognizing and preventing intoxication, checking identification and dealing with difficult situations. The course is self-paced and navigation is intuitive, allowing users to easily review key concepts. The course integrates audio and video, role-play activities, interactive exercises and includes a post test to help prepare students for the certification examination. A bookmark feature allows users to easily return to where they left off.
Online Training Courses are assigned within 24 hours of purchased (Monday – Friday; Excluding Holiday's).  All online training course purchased are final and are non-refundable.  Please verify regulatory requirements prior to purchase.  All online course are designed for computer access and will not work with a tablet or smartphones unless specified on course description.
Physical Items Orders are shipped within 3 business days (Monday – Friday; Excluding Holiday's) by a third party warehouse and all orders are charged a $12.50 handling fee plus shipping. UPS Next Day Air & 2nd Day Air orders must be placed by 12:00 PM CST to be shipped same day as order placement. Click here to view UPS Ground Transit times.

Please Note: Business days do not include weekends or holidays and orders shipped via UPS Next or 2nd Day Air may not be delivered until 7:00 PM.

We cannot ship orders to P.O. boxes.

Sales tax is configured on HRBUniversal office address 4000 Eagle Point Corporate Drive Birmingham, AL 35242.

UPS Shipping is configured at our 3rd party fulfillment warehouse at 1750 Wallace Avenue St. Charles, Illinois 60174.

All orders are pending until payment is received via PayPal or Credit Card processed by Square.