ServSafe®Overview of Foodborne Microorganisms and Allergens DVD
00023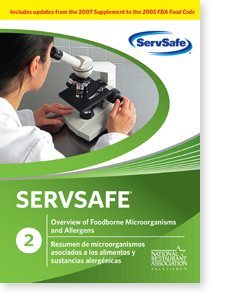 ServSafe® Products & Online Training
Price: 125 USD In stock
Please note: This product was updated in March 2009 with the 2007 Supplement to the 2005 FDA Food Code, and reflects minor changes. Learn more or view a demo.
ServSafe®Overview of Foodborne Microorganisms and Allergens DVD

ServSafe Overview of Foodborne Microorganisms and Allergens Covers:
- What microbial contaminants are and how they contaminate food
- Conditions that affect the growth of microorganisms
- Types of food that support the growth of microorganisms
- Characteristics of bacteria, viruses, parasites, and fungi
- Types of biological, chemical, and physical contaminants
- Types of food allergens, the symptoms associated with them, and methods of prevention

SDVD2R, English/Spanish
English Running Time - 21m 58s
Online Training Courses are assigned within 24 hours of purchased (Monday – Friday; Excluding Holiday's).  All online training course purchased are final and are non-refundable.  Please verify regulatory requirements prior to purchase.  All online course are designed for computer access and will not work with a tablet or smartphones unless specified on course description.
Physical Items Orders are shipped within 3 business days (Monday – Friday; Excluding Holiday's) by a third party warehouse and all orders are charged a $12.50 handling fee plus shipping. UPS Next Day Air & 2nd Day Air orders must be placed by 12:00 PM CST to be shipped same day as order placement. Click here to view UPS Ground Transit times.

Please Note: Business days do not include weekends or holidays and orders shipped via UPS Next or 2nd Day Air may not be delivered until 7:00 PM.

We cannot ship orders to P.O. boxes.

Sales tax is configured on HRBUniversal office address 4000 Eagle Point Corporate Drive Birmingham, AL 35242.

UPS Shipping is configured at our 3rd party fulfillment warehouse at 1750 Wallace Avenue St. Charles, Illinois 60174.

All orders are pending until payment is received via PayPal or Credit Card processed by Square.