ServSafe® Facilities, Cleaning and Sanitizing, and Pest Management DVD
00027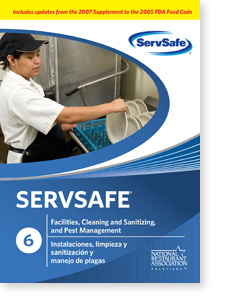 ServSafe® Products & Online Training
Price: 125 USD In stock
Please note: This product was updated in March 2009 with the 2007 Supplement to the 2005 FDA Food Code, and reflects minor changes. Learn more or view a demo.
ServSafe® Facilities, Cleaning and Sanitizing, and Pest Management DVD

ServSafe Facilities, Cleaning and Sanitizing, and Pest Management Covers:
Sanitary Facilities and Equipment
- Guidelines for facility design and plan review
- Requirements for interior flooring materials
- Requirements for handwashing stations
- Sanitation standards for equipment
- Requirements for installing dishwashing machines
- Requirements for installing and maintaining kitchen equipment
- Requirements for water supply and plumbing
- Lighting and ventilation requirements
- Requirements for garbage disposal
Cleaning and Sanitizing
- Difference between cleaning and sanitizing
- Cleaning agents and their proper use
- Methods of sanitizing
- Dishwashing machines and their proper operation
- How to clean and sanitize equipment using a three-compartment sink
- How to store utensils, tableware, and equipment
- How to store cleaning tools and supplies
- How to use and store hazardous materials
Integrated Pest Management
- How to develop and implement an Integrated Pest Management program
- How to identify different pests
- How to use and store pesticides

SDVD6R, English/Spanish
English Running Time - 42m 37s
Online Training Courses are assigned within 24 hours of purchased (Monday – Friday; Excluding Holiday's).  All online training course purchased are final and are non-refundable.  Please verify regulatory requirements prior to purchase.  All online course are designed for computer access and will not work with a tablet or smartphones unless specified on course description.
Physical Items Orders are shipped within 3 business days (Monday – Friday; Excluding Holiday's) by a third party warehouse and all orders are charged a $12.50 handling fee plus shipping. UPS Next Day Air & 2nd Day Air orders must be placed by 12:00 PM CST to be shipped same day as order placement. Click here to view UPS Ground Transit times.

Please Note: Business days do not include weekends or holidays and orders shipped via UPS Next or 2nd Day Air may not be delivered until 7:00 PM.

We cannot ship orders to P.O. boxes.

Sales tax is configured on HRBUniversal office address 4000 Eagle Point Corporate Drive Birmingham, AL 35242.

UPS Shipping is configured at our 3rd party fulfillment warehouse at 1750 Wallace Avenue St. Charles, Illinois 60174.

All orders are pending until payment is received via PayPal or Credit Card processed by Square.