SURE™ Food Safety Trainer Manual
00119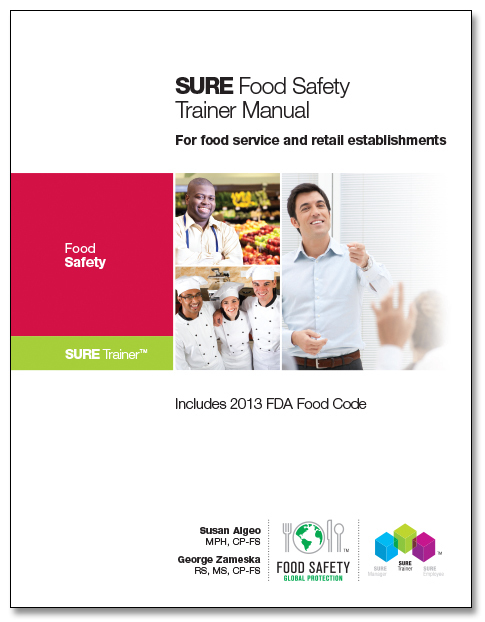 SURE™ Products
Price: 129.95 USD In stock
Description: The Trainer's solution for educating food service and retail employees and managers.
Employees and managers are the core of food service and retail establishments and must know how to keep food safe. Food safety is an essential part of any food service or retail operation. Understanding the risks and ways to prevent foodborne illness will protect customers and businesses from harm. Proper food safety training can lead to improved food safety and customer satisfaction.


This manual allows trainers to have, at their fingertips, all of the materials they need to properly train food safety. It includes:


• Instructional materials • SURE Food Safety Employee Manual • SURE Food Safety Manager Manual • SURE PowerPoint slides • Discussion points • Trainer tips This manual has been prepared for professionals who train food service or retail establishments that serve and/or sell food, including: Restaurants • Convenience stores • Supermarkets • Cruise ships • Casinos Concessions • Senior care facilities • Hotels • Resorts • Bars • Taverns Education institutions • Airports • Liquor stores • Military • Commissaries Contract food service • Hospitals • Institutional food service


Trainers can be confident that they have the best resource available to teach food safety to employees and managers. This training manual has up-to-date, relevant course material written by professionals in the industry. Utilizing this manual, together with the training aids, ensures that employees and management will understand their roles in providing safe food.


Included in this manual is a SURE answer sheet that will be used by the participant when taking the examination to become a certified SURE Food Safety Trainer. Upon a participant completing the course and passing the examination they receive the SURE Food Safety certification and wallet card that is proof of demonstration of knowledge.


This full-color book contains illustrations, tables, and forms.
Paperback: 230 pages
Language: English
Product Dimensions: 8.5" x 11" x 1"
Shipping Weight: 2 lbs
SKU: FSTV10
Online Training Courses are assigned within 24 hours of purchased (Monday – Friday; Excluding Holiday's).  All online training course purchased are final and are non-refundable.  Please verify regulatory requirements prior to purchase.  All online course are designed for computer access and will not work with a tablet or smartphones unless specified on course description.
Physical Items Orders are shipped within 3 business days (Monday – Friday; Excluding Holiday's) by a third party warehouse and all orders are charged a $12.50 handling fee plus shipping. UPS Next Day Air & 2nd Day Air orders must be placed by 12:00 PM CST to be shipped same day as order placement. Click here to view UPS Ground Transit times.

Please Note: Business days do not include weekends or holidays and orders shipped via UPS Next or 2nd Day Air may not be delivered until 7:00 PM.

We cannot ship orders to P.O. boxes.

Sales tax is configured on HRBUniversal office address 4000 Eagle Point Corporate Drive Birmingham, AL 35242.

UPS Shipping is configured at our 3rd party fulfillment warehouse at 1750 Wallace Avenue St. Charles, Illinois 60174.

All orders are pending until payment is received via PayPal or Credit Card processed by Square.