SURE™ Food Safety Manager Manual
00121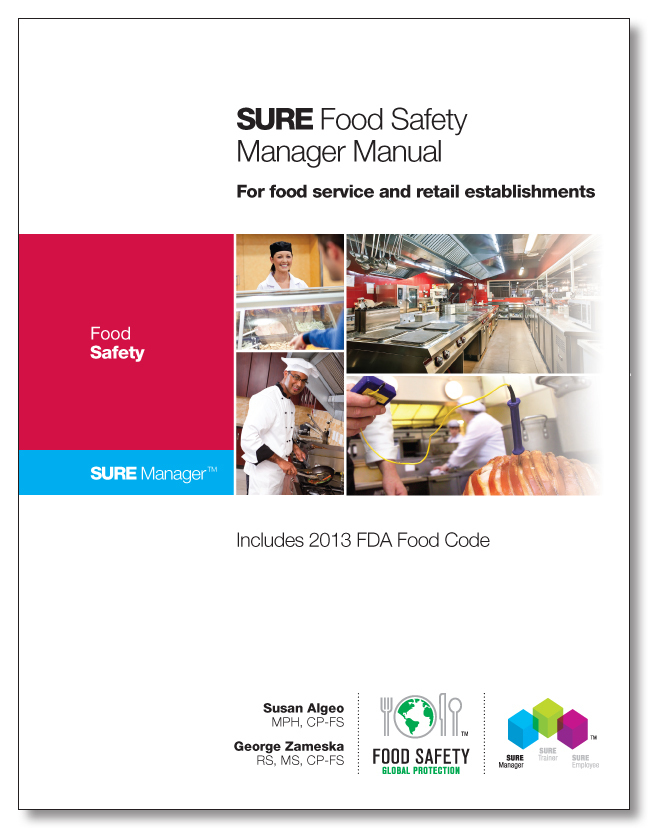 SURE™ Products
Price: 26.95 USD In stock
Description: The leadership solution for food service and retail establishments
Food safety is an essential part of any food service or retail operation. Understanding the risks and ways to prevent foodborne illness will protect customers and businesses from harm. The person-in-charge of a food service or retail establishment must know how and what food safety practices to monitor. Proper food safety training can lead to improved food safety, brand protection, and customer satisfaction. The SURE Food Safety Manager Manual is written to provide the person-in-charge of a food service or retail establishment the knowledge and skills that they will need to keep food safe. Learning and applying food safety practices protects customers and businesses.
This SURE Food Safety Manager Manual course is designed for every food service or retail operation including restaurants, convenience stores, supermarkets, cruise ships, casinos, concessions, senior care facilities, hotels, resorts, bars, taverns, education institutions, airports, liquor stores, military, commissaries, contract food service, hospitals, and institutional food service.


The manual is divided into three sections:
Section 1 – Foundations of Food Safety: The person-in-charge will study an overview of the regulations, food safety basics, microorganisms, and core food safety features. This section will build the foundation that a person-in-charge will need in order to apply food safety practices.
Section 2 – Addressing the Five CDC Risk Factors: The Centers for Disease Control and Prevention (CDC) has identified the five most common causes of foodborne illness. The person-in-charge will learn how to address these issues and control these risk factors in order to be able to serve and sell safe food in their operation.
Section 3 – Proactive Food Safety System: Once a food safety foundation is built and the risk factors have been addressed, a food safety management system can be applied. Hazard Analysis and Critical Control Point (HACCP) is a proactive system that assesses the food safety hazards in an operation and identifies ways to prevent, eliminate, or reduce each hazard to a safe level. The person-in-charge will learn to apply the seven HACCP principles in their operation.
Upon completion of the SURE Food Safety Manager Manual, participants will have the knowledge to safely serve and sell food to their customers. Participants will also be prepared to take an ANSI-accredited Food Protection Manager Examination.
This full-color book contains illustrations, tables, and forms.
Paperback: 167 pages
Language: English
Product Dimensions: 8.5" x 11" x 0.375"
Shipping Weight: 1 lbs
SKU: FSMV10
Online Training Courses are assigned within 24 hours of purchased (Monday – Friday; Excluding Holiday's).  All online training course purchased are final and are non-refundable.  Please verify regulatory requirements prior to purchase.  All online course are designed for computer access and will not work with a tablet or smartphones unless specified on course description.
Physical Items Orders are shipped within 3 business days (Monday – Friday; Excluding Holiday's) by a third party warehouse and all orders are charged a $12.50 handling fee plus shipping. UPS Next Day Air & 2nd Day Air orders must be placed by 12:00 PM CST to be shipped same day as order placement. Click here to view UPS Ground Transit times.

Please Note: Business days do not include weekends or holidays and orders shipped via UPS Next or 2nd Day Air may not be delivered until 7:00 PM.

We cannot ship orders to P.O. boxes.

Sales tax is configured on HRBUniversal office address 4000 Eagle Point Corporate Drive Birmingham, AL 35242.

UPS Shipping is configured at our 3rd party fulfillment warehouse at 1750 Wallace Avenue St. Charles, Illinois 60174.

All orders are pending until payment is received via PayPal or Credit Card processed by Square.